Do you think I'm crazy, 'Cause I'm up and leaving, baby
Well, I ain't got nobody, And I ain't got no money, baby, yeah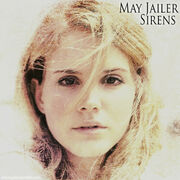 Aviation is an unreleased track recorded in 2007. It was track twelve for the album Sirens, which Lana recorded under the name May Jailer, an early alter ego. It was written by Grant and is 3 minutes 11 seconds long. It is described as indie/alternative rock.
The song is about a desire to get away from it all.
Do you think I'm crazy
For considering aviation?
I'm the fan of flying
Want to do it for the nation
'Cause I have nothing else to do
This summer but committed to you
Have a big degree in philosophy
But I don't know what I want to be
So I'm going into aviation, yeah, mom
I'm going into aviation, yeah, dad
Going into aviation
I'm going into aviation
Do you think I'm crazy
'Cause I'm up and leaving, baby
Well, I ain't got nobody
And I ain't got no money, baby, yeah
I feel high as I might tonight
So lean back and enjoy the flight
And the weather is clear, yeah, nobody is near
The future is not here
So I'm going into aviation, yeah, mom
I'm going into aviation, yeah, dad
Going into aviation
I'm going into aviation
Do you think I'm crazy
'Cause I'm going to Pensacola
Where nobody knows me
Where someone could just start over
I'll be all right in a month or two
'Cause it's warm there in the winter, too
Think New York is great, I really like the state
But it's time to be on my way
I'm going into aviation, yeah, mom
I'm going into aviation, yeah, dad
I'm going to take a vacation, yeah, man
Fly fighter jets all over the nation
Fly fighter jets all over the nation