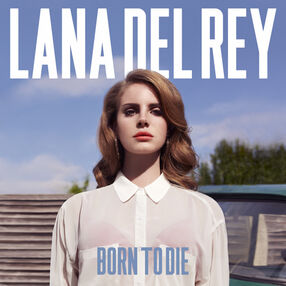 "I want my cake and I want to eat it too
I want to have fun and be in love with you''"
Intro

[

]
Lolita is Track 14 on the Born to Die album. The song was written by Grant Liam Howe and Hannah Robinson, and is 3 minutes 40 seconds long.
Three demo versions have surfaced online. Live performances can also be heard.
Music Video

[

]
Lana created a home-made video for the song. See article Music Videos.
Lyrics

[

]
One, one
Would you be mine? Would you be my baby tonight?
Could be kissing my fruit punch lips in the bright sunshine
'Cause I like you quite a lot, everything you got, don't you know
It's you that I adore, though I make the boys fall, like dominos
Kiss me in the D.A.R.K dark tonight
D.A.R.K., do it my way
Kiss me in the P.A.R.K. park tonight
P.A.R.K., let them all say
Hey, Lolita, hey
Hey, Lolita, hey
I know what the boys want, I'm not going to play
Hey, Lolita, hey
Hey, Lolita, hey
Whistle all you want, but I'm not going to say
No more skipping rope, skipping heart beats
With the boys down town
Just you and me, feeling the heat
Beating when the sun goes down
I could be yours, I could be your baby tonight
Topple you down from your sky, forty stories high
Shining like a god, can't believe I got, you inside
Look at what I've got, might have second thoughts, oh, Romeo
Kiss me in the D.A.R.K dark tonight
D.A.R.K., do it my way
Kiss me in the P.A.R.K. park tonight
P.A.R.K., let them all say
Hey, Lolita, hey
Hey, Lolita, hey
I know what the boys want, I'm not going to play
Hey, Lolita, hey
Hey, Lolita, hey
Whistle all you want, but I'm not going to say
No more skipping rope, skipping heart beats
With the boys down town
Just you and me, feeling the heat
Beating when the sun goes down
I want my cake and I want to eat it too
I want to have fun and be in love with you
I know that I'm a mess with my long hair
And my suntan, short dress, bare feet, I don't care
What they say about me
What they say about me
Because I know that it's L.O.V.E.
You make me happy
You make me happy
And I'm not going to listen to anyone
Hey, Lolita, hey
Hey, Lolita, hey
I know what the boys want, I'm not going to play
Hey, Lolita, hey
Hey, Lolita, hey
Whistle all you want, but I'm not going to say
No more skipping rope, skipping heart beats
With the boys down town
Just you and me, feeling the heat
Beating when the sun goes down